Today, as I went in to check on her, I found that Pinky had passed. She was the last of my three bearded dragons, who all lived good long lives. Pinky started to slow down on her eating in recent months. It was difficult to keep her energy up. She started to lose a lot of weight. This was how it was for my other two beardies (Brain and Cailyth [BD.org co-founder]). They lost appetite and weight quickly near the end. With Pinky it took a little longer. A few weeks ago, I even ordered a bunch of Phoenix worms in hopes of improving her appetite (she always loved them). She did eat a good number of them at first, although I did have to put them in front of her. She had lost a lot of her strength. But this last week, she wanted nothing to do with anything.
Earlier this week, I gave her a bath (she loved her baths) which she seemed to enjoy. I helped her pass a poop that needed to go. I then placed her in a warm spot of the enclosure all comfy. She'd started to get to the point that she couldn't really walk much. I came in and fed her a few Phoenix worms if she would eat them. She pretty much didn't move from the spot I put her in all week. Well, today, I found her in that same position, but without any life in her. I was actually just telling someone last night via PM, that Pinky may not last the end of the year. I guess I was right, unfortunately. But I came to recognize the signs of "the ends" after my first two beardies had passed from old age.
It is sad, but Pinky lived nearly 11 years (10 years 8 months, I think). She had a full life. I will tell a little of her tale, here.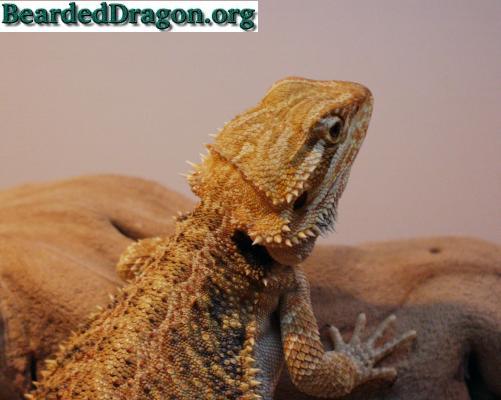 Pinky came with her sister, Brain. They were my 2nd and 3rd beardies, after having had Cailyth for nearly a year. Pinky had a week when she was very young that she didn't eat for some reason. I have always attributed that to being the reason why she's always been about an inch or so smaller than her sister. But Pinky was spunky! She may have been smaller than her sister, but she was always the one in charge and "hanging out on top".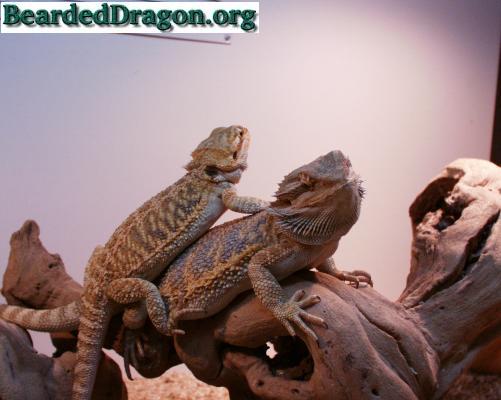 Pinky and Brain grew up together. I kept them housed together as they never showed any signs of aggression. It was cute how they even slept cuddled together often times. Here we have Pinky and Brain enjoying a warm hand rail that had been sitting in the sun on a warm summer day...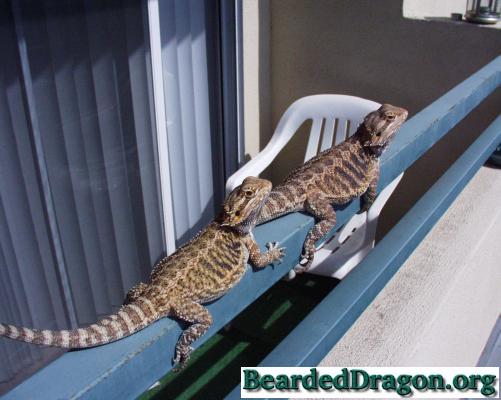 Pinky didn't have any other health issues through her life. While both Brain and Cailyth had a couple times where they seemed "sick" as indicated by a major loss in appetite and weight (both always nursed back to health until their final days), Pinky was always hungry and full of energy throughout her life.
Pinky also LOVED her baths! Cailyth liked his. Brain was indifferent, but Pinky... she LOVED them. She would get all full of energy and splash around like a little kid. Sometimes I would put a large water dish in the girls' enclosure and it was always pinky would would dive right in, splashing around and making a mess of the enclosure.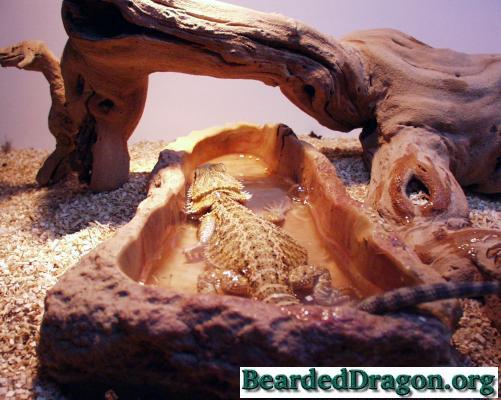 Overall, Pinky was a great bearded dragon. She will most certainly be missed!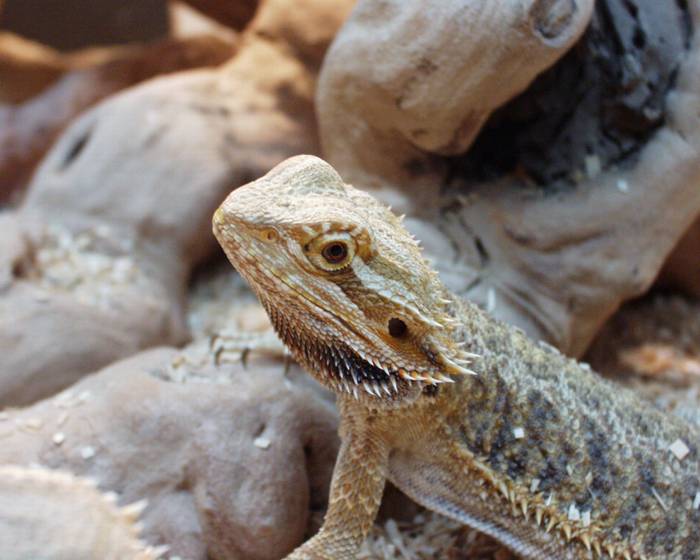 She is the last of my bearded dragons. At this point, I'm uncertain if I will get another any time soon. My life is in a different place than it was 11 years ago. Perhaps again someday. But don't worry. Just because I don't have any bearded dragons of my own, doesn't mean I don't still care about them and ensuring people find good information to take better care of their own! BeardedDragon.org will continue on, and I will still be working to keep things running smoothly and working with the moderators on site issues. One of my hobbies is computers, so I enjoy even that aspect of running the website. In fact, I think I will be planning a server upgrade early next year as we've grown a bit more lately and are "feeling it" with the server.
Anyway... everyone please take a moment to wish Pinky well in Beardie-heaven.
Pinky, you will be missed! Please say hello to Cailyth and Brain for me.
PS- I learned from my early mistakes with substrates... please don't use wood chipping substrate (as seen in the pictures). It's not the safest/best for beardies.
Last edited: