Hey there! My brother's bearded dragon has recently developed a spot on his chin that has grown over the past few weeks. It started as a lightly discolored line of scales right along a crease in his face, but after trying to remove the scales (thinking it was stuck shed), it just revealed this pitch black skin.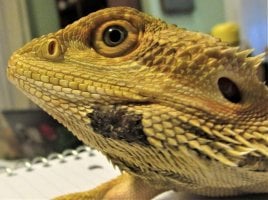 Phil (the dragon) doesn't seem to mind us touching or even lightly pinching it, so it clearly isn't causing him pain, however it has been growing at a consistent pace and more scales have fallen off. There are no scales on the area anymore. While we were taking photos, my brother found another black spot on the lizard's tail that appears to be limited to just one scale.
Any input is much appreciated. Phil is healthy and active, he's fed the proper amounts and has proper basking temps as well, we really are at a loss.
Thank you all and God bless!