16 SEPT VIC
Victoria records 42 new coronavirus cases and eight deaths
Victoria has recorded 42 new coronavirus cases and eight deaths as police prepare to crack down on regional travel.

Regional Victoria will return to Stage Two restrictions at 11.59pm on Wednesday, but Melbourne will stay in its Stage Four lockdown.



Authorities are ramping up roadblocks, creating the so-called 'ring of steel' around Melbourne to ensure city residents do not try to take advantage of the eased regional measures.

Premier Daniel Andrews has warned motorists travelling out of the city to expect longer wait times as police tighten checkpoints.

'I'm sorry to say it will mean that there will be significant queues, there will be travel issues,' he told reporters on Tuesday.

Outdoor gathering limits in regional parts of the state will increase to 10 people from midnight on Thursday morning - as will weddings and outdoor religious gatherings.

Funerals will be allowed 20 mourners and regional Victorians can welcome five visitors from another nominated household.

Melbourne's lockdown rules remain unchanged and people cannot travel out of the city without specific reasons.

The next step for regional Victoria means pubs, cafes and restaurants will be able to serve people outside with strict density quotas, while outdoor gathering limits will be upped to 10.

Regional Victorians will also be able to leave their homes without restriction and all shops can reopen.

The premier said Melburnians should be inspired by the rolling back of restrictions, rather than disheartened.

'I'd encourage people not to see it that way and instead see this as proof positive,' he said.

The move comes after Mr Andrews was heavily criticised for a $290million plan to revive the state's crippled entertainment sector.

The under-fire premier unveiled a funding package on Monday to help the state's sole traders and entertainment industry survive when COVID-19 restrictions are lifted.

Mr Andrews said the plan would turn the city into an al fresco dining hub - but the head of Melbourne's largest restaurant group has already labelled the proposal unworkable.

'The government thinks this is going to be some sort of outdoor Disneyland for dining, but it's not going to work,' Luca Restaurants chief executive Chris Lucas told the Herald Sun.

'The majority of the city's restaurants cannot work outdoors. Outdoor dining really only suits cafes, not to mention Melbourne's problematic weather.'

Restaurant and Catering Industry Association chief Wes Lambert said though the package would help lift the city's restaurants out of lockdown.

'This is a generous and comprehensive package that matches calls from industry organisations like R&CA to help businesses operate outdoors,' he said.

Mr Andrews compared the revival plan - which will see $100million go towards a Melbourne City Recovery fund to inject life back into the city - to New York's Open Restaurants initiative.

The program in the US' largest city involved footpaths, laneways and streets being temporarily transformed into dining areas.

But Mr Lucas said as many as 60 per cent of New York's businesses could still not be saved by the program.

Premier Daniel Andrews has meanwhile flagged regional Victoria may move to the 'third step' of its roadmap plan as early as this week.

That step, allowing people to leave their homes without restrictions and hospitality businesses to reopen, is triggered if its 14-day average remains below five and no 'mystery' cases are recorded.

'There won't be a lot of notice,' Mr Andrews told reporters on Monday.

'That is preferable in making people wait for another week or so.

'Hopefully we can have very good news for regional Victoria tomorrow.'

Under the state government's plan, Melbourne's bars, cafes and restaurants can open for outdoor dining from October 26.

Melbourne will move to its next step of reopening on September 28 if the 14-day average falls to 30-50.

The city took its first tentative steps out of lockdown on Monday, with those living alone or single parents allowed to have one visitor, outdoor exercise extended to two hours and the curfew's start time extended an hour to 9pm.

WHAT REGIONAL VICTORIANS WILL BE ALLOWED TO DO UNDER EASED LOCKDOWN RULES

Outdoor gathering limits will increase to 10 people. That number does not include infants under the age of 12 months.

People in regional Victoria will also be able to leave their homes without restriction.

Limits for outdoor religious gatherings and weddings will increase to 10 people, while funeral limits will rise to 20 mourners.

Five visitors are allowed in a home from a nominated household.

Schools will return to normal operation over the first two weeks of Term 4.

Outdoor auctions will be allowed to have a maximum of 10 people in attendance.

Children can return to community sport and adults can take part in non-contact sport.

Regional Victorians can travel and holiday within regional parts of the state - with tourist accommodation in those areas also opening up
https://www.msn.com/en-au/news/australi ... d=msedgdhp
'We are defeating this second wave': Andrews reports less than 1000 active cases in Victoria
So "Dopey Dan" and his government hasn't done such a shabby job at bringing a very dangerous 2nd wave of covid19 under control, I think he deserves a
big well done
.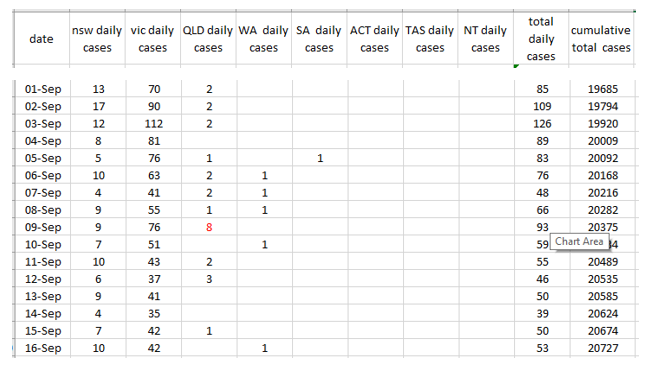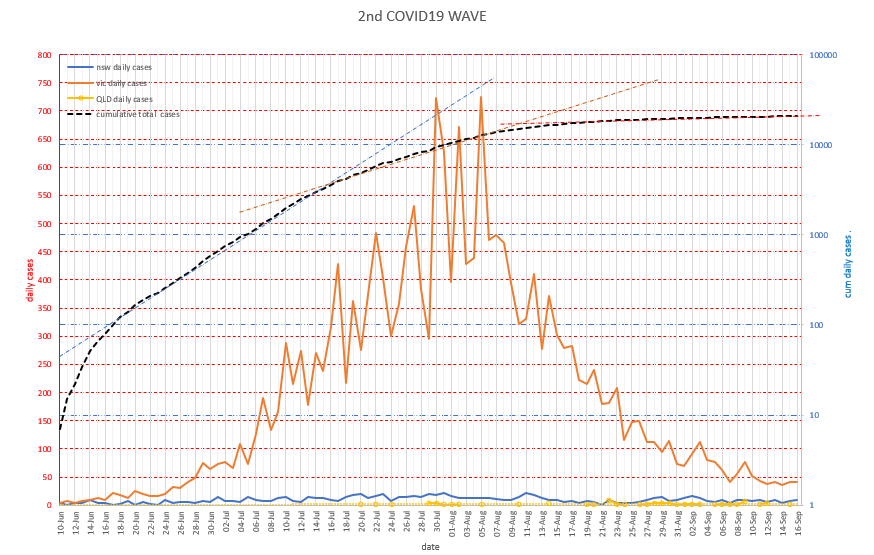 HOSPITALS SITUATION IN VICTORIA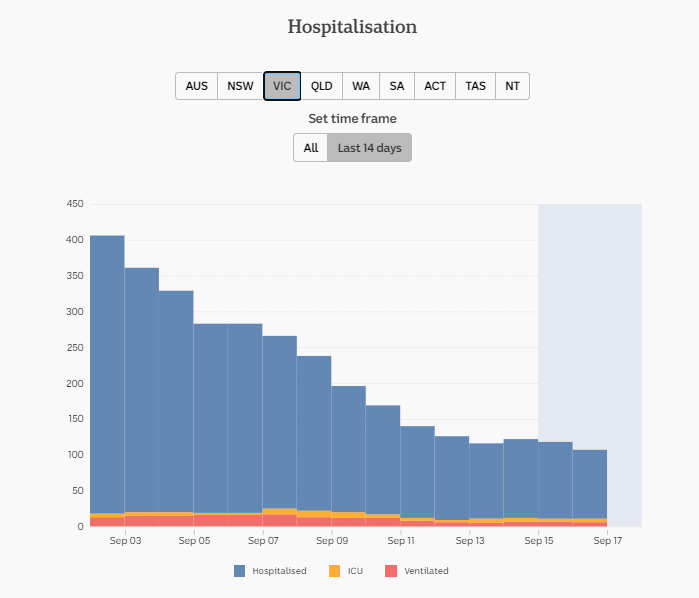 RESIDENTIAL AGED CARE SITUATION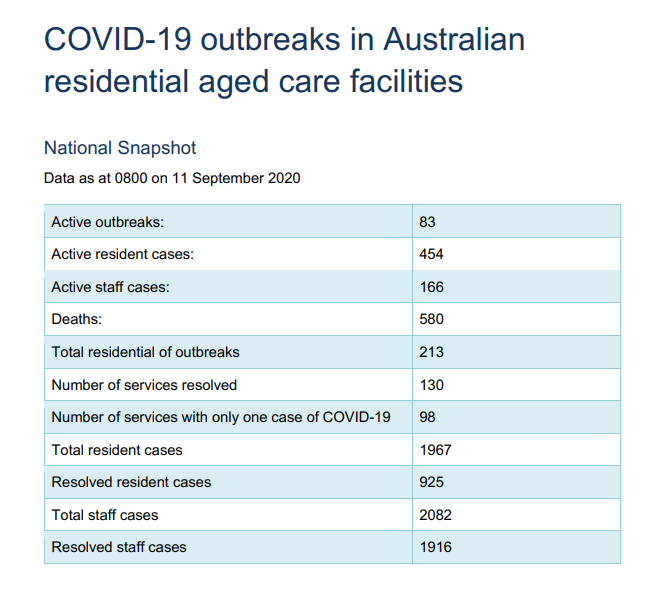 Victoria has reported less than 1000 active COVID-19 cases as the coronavirus caseload continues on a positive downward trend.

Premier Daniel Andrews announced there was a total 991 active cases across the state, stating it "should be a point of pride for every single Victorian".

He praised residents compliant with health orders and "staying the course" for bringing the caseload below 1000 "for the first time in a long time".

"By getting them to low levels, we have that ultimate pathway where we can find that COVID normal and lock it in and not have a situation that lasts just a few weeks," Mr Andrews said.

"Doing it in a safe and steady way and in a sustainable way, in a way that can avoid bouncing in and out of lockdowns, in a way that can guarantee that, by the end of the year, we have every chance that Christmas is as close to normal as possible and that 2021 is vastly different to 2020.
https://www.msn.com/en-au/news/australi ... d=msedgdhp
QUARANTINE INQUIRY
Victoria's CHO Brett Sutton tells inquiry he was unaware private security used in hotel quarantine
Victoria's chief health officer, Prof Brett Sutton, had no idea private security guards were being used in hotel quarantine until the outbreaks in June that led to the state's second wave of Covid-19 cases.

The inquiry investigating the state's botched hotel quarantine program heard on Thursday Sutton and his team had "no oversight" of hotel quarantine, and expressed concerns as early as April of the risks the program posed to hotel guests.

"I did not have a view about the use of security companies in hotel quarantine. I did not know that security guards were used until after the outbreaks," the chief health officer said in his written submission to the inquiry.

Related: Hundreds seek damages as Victoria faces multiple class-action lawsuits over Melbourne's Covid lockdown

There was early concern among Sutton's team that the operation, codenamed Operation Soteria, was mainly run as an accommodation program with not enough focus on public health.

In an email sent to the program's commander on 9 April, Sutton and deputy chief medical officer Annaliese van Diemen requested an urgent review of the governance of the operation.

"Unless governance and plan issues are addressed, there will be a risk to health and safety of detainees," the email stated.

Following the email, a public health command liaison position was connected to the operation to give Sutton's team greater visibility into hotel quarantine.

The chief health officer maintains, however, that he was unaware private security had been used in hotel quarantine until outbreaks among security guards at the Rydges and Stamford Plaza hotels had occurred.

Sutton said in hindsight, the use of private security guards was a risk.

"There are a number of vulnerabilities with respect to transmission risk because of that workforce," he said.

"The demographics of that workforce cohort provide for significant risks of transmission within the community."

He said the casualised nature of the work and the dependency of employees on the program made it an incentive for staff to keep working in hotel quarantine, while still attending to other jobs potentially symptomatic or aware of their diagnosis.

"The casualised labour that was involved with a number of them [who] had other work that they needed to do … brought the risk of transmission to other workplaces and other individuals."

Sutton said there were also potentially cultural and language issues in understanding social distancing rules and infection control, and identifying close contacts.

"It's clear that there must have been close contacts who were not identified because we're aware that this virus extended to the broader community without a clear epidemiological link back to the staff at hotel quarantine," he said.

This meant, Sutton added, that "there are unidentified close contacts in that chain who were never raised as close contacts with the outbreak management team".

Related: Australian defence force help for Victoria hotel quarantine was offered in April, inquiry told

In June, the then-federal chief medical officer, Prof Brendan Murphy, suggested in an email to Sutton that, given the issues with casualisation, casual staff should be paid their normal hourly rate for two weeks if required to isolate.

Murphy also offered to provide Aspen Medical staff as a surge workforce. Sutton replied security was the main issue.

"It is security staffing that is our main risk at the moment," Sutton said in an email to Murphy on 21 June.

On Thursday, the inquiry will hear from Victoria police commissioner Shane Patton and former commissioner Graham Ashton. The Victorian premier, Daniel Andrews, is due to give evidence next week.
https://www.msn.com/en-au/news/australi ... d=msedgdhp
ARE MELBOURNIANS GOING TO BE ALLOWED TO TRAVEL TO OR HOLIDAY OR ESCAPE IN REGION VICTORIA (YET) ?
Police threaten Melbourne residents with $5,000 fine for visiting regional Victoria when coronavirus restrictions ease
Melbourne residents who try to sneak into regional Victoria to enjoy the relaxing of restrictions in the country have been warned they face fines of almost $5,000.

Regional Victoria's pubs, cafes, hair salons and caravan parks will be among the venues reopening from tomorrow, and there will no longer be restrictions on people leaving their homes.

Victoria Police's deputy commissioner of regional operations, Rick Nugent, said police would introduce a new offence to deter people from trying to leave Melbourne without a permitted reason.

"We have been advised the fine for that offence will be $4,957," he said.

"So that is quite a significant fine, and clearly aimed to deter people from the Melbourne metropolitan areas from attending these regional and rural areas."

Deputy Commissioner Nugent said police would be highly active and working hard to keep Melbourne residents from regional Victoria, particularly during the school holidays.

"We do not want regional and rural communities to be put at risk by Melbourne metropolitan people," he said.

"We don't want the virus to spread again in these rural areas, we want to maintain the restrictions and continue to ease them."

Extra police checks and delays at regional borders
Deputy Commissioner Nugent said police would particularly focus on drivers who looked like they were going on a holiday.

"We will be checking every vehicle that is towing a caravan, a camper trailer or other trailer, towing a boat or jetski or has surfboards or fishing rods or swags," he said.

He warned motorists there would be delays at checkpoints.

Police will also establish extra checkpoints on the way to the Mornington Peninsula, which remains under the same restrictions as Melbourne, to make sure other Melbourne residents don't try to head there for a break during the school holidays.

"Additional enforcement will be supported by more pop-up and random checkpoints on the back roads," he said.

Police will also increase checks on bus and train services.

Local police told to protect their communities from Melbourne travellers
Deputy Commissioner Nugent said rural communities did not want visitors from Melbourne.

Police in regional Victoria will also do checks at boat ramps, caravan parks, state parks and pubs and clubs for residents from Melbourne, and will check number plates to see where a car is registered to.

"The people who are found to be found breaching will be issued with a $4,957 fine, that is a huge fine," Deputy Commissioner Nugent said.

"If there is more than one person, if it is mum and dad, mum and dad both get the fine, so that is close to a $10,000 fine."

Police will also send any Melbourne residents found in regional Victoria without permission back home.
SHORT ANSWER = NO , NOT TIL MELBOURNE BRINGS NEW DAILY CASES UNDER 5 PER DAY
https://www.msn.com/en-au/news/australi ... d=msedgdhp
NORMALIZING IN VICTORIAN - THE LONG TRAIL TO "COVID-NORMAL" LIFE IN VICTORIA HAS BEGUN
Daylight savings in Victoria to go ahead despite health concerns
Daylight savings will go ahead as planned in Victoria despite experts warning of health and socioeconomic consequences if clocks change by an hour next month.

Monash University professors have suggested Victorians losing an hour of sleep during coronavirus lockdown on October 4 at 2am would present "greater risk of having disrupted circadian rhythms" which is linked to poor mood, sleep and general health.

The experts put forward a proposal to Federal Health Minister Greg Hunt in March, claiming the changeover to daylight saving time would trigger concerning 'body clock' disruption.

"There is a strong case for attention to this detail with some immediacy given the circadian disruption already underlying the impact of the pandemic," Professor of Diabetes Paul Zimmet said today.

"As we approach the changeover to daylight saving time, the practice remains controversial to the extent that the European Union Parliament has recently voted to cease recommending the practice.

"It has left individual nations to decide for themselves."



But Premier Daniel Andrews today rejected the idea the annual calendar event should be cancelled, asserting "daylight savings will be proceeding".

"I don't want to be disrespectful to the professor, who may be a very learned individual," Mr Andrews said.

"Daylight savings will be proceeding. That's why the curfew changes, that extra hour is really important.

"This will be a summer like no other and daylight saving, I can confirm, will be a feature of it."
https://www.msn.com/en-au/news/melbourn ... d=msedgdhp
How Victoria's staged return of elective surgeries will work as coronavirus restrictions ease
It's been nearly two months since the Victorian Government suspended most elective surgery.

In July Premier Daniel Andrews said that was necessary to free up healthcare workers needed to help in aged care, and hospital beds for people sick with COVID-19.

At the time of the announcement the state had recorded nearly 400 cases in one day, and all elective surgery except the most urgent procedures were cancelled.

But now seven weeks later, with Victoria recording just 42 cases, surgeons are ready to begin operating again.

When will elective surgeries begin in regional Victoria?
In regional Victoria increased elective surgeries will resume from tomorrow.

The aim is for hospitals to be conducting 85 per cent of the pre-pandemic number of elective surgeries from September 28, up from the current rate of 50 per cent.

All hospitals will then aim to get to 100 per cent of usual activity once the state moves to the final stage on the state's roadmap to recovery, which is planned for November 23.

What about surgeries in Melbourne?
In Metropolitan Melbourne hospitals will increase elective surgeries to 75 per cent of usual activity from September 28 when the city hits the second stage in its roadmap to recovery.

Melbourne hospitals will then increase to 85 per cent once the city reaches the third stage of the recovery.

[embed: 14-day average]
All Melbourne hospitals will return to full capacity when the state hits its final step in the roadmap, which is currently planned for November 23.

Mr Andrews said this staged resumption will allow the state to perform nearly 19,000 additional surgeries across hospitals in October, and an estimated extra 10,000 surgeries in November.

Will there be a surgery blitz?
Mr Andrews said Victoria will deal with the backlog of people waiting for surgery as soon as it is safe to do so.

"I do, again, apologise to those who have had to wait for their surgery," he said.

He said there will be a "substantial blitz" for elective surgeries that will be announced at a later date.

"There will be a lot of catch-up to be done here, but our health system, working together, are equal to the task," he said.

COVID-screening will continue in hospitals
Health Minister Jenny Mikakos said asymptomatic testing of healthcare workers will continue as Victoria ramps up elective surgeries.

She said hospitals pre-surgery COVID-screening of patients would also continue.

Ms Mikakos said the state would also resume a staged return of other health services like dental visits and specialist medical appointments.

Dental and allied health service restrictions are due to ease in Melbourne from September 28, with dentists able to perform non-urgent examinations and services.
https://www.msn.com/en-au/news/australi ... d=msedgdhp