[TOPIC AUTO-LOCKED DUE TO INACTIVITY]
If you've got an adventurous dragon, but you're worried that he'll get away and hide under the shed... Fear no longer, for I have, the dragon leash!
You can buy something very similar, the TRex Lizard leash, but having owned one, I've discovered they're not ideal for our dragon friends. The nature of their rough scales pulls the cord and creates little loops that snag - not too comfy. Ideal for smooth scales like skinks and anoles though, especially the soft, easy to cut to size leather.
I noticed Tsam had outgrown his leash in the last month (as it's winter, I don't take them walkies outdoors see.) and so I'll remake it for you guys to study.
If you're going to make a Dragon Leash, you'll need about 2 meters of good silk or material ribbon. Never use the plasticky stuff you get for wrapping flowers or presents with, it has sharp edges. You can even use bootlaces if it's a bit of an emergency.
First of all, you'll need to tie two permanent loops into it. Tie one at the end. Then, holding one in the middle of your dragons back, loop it under his arm and over his other shoulder. Where it lands in the middle of his chest, you need to put the other loop.
Your ribbon should now look like this, with two permanent loop knots tied into it.
Take your ribbon, put it back how you had it to measure it, make sure the knot is in the middle of his chest. If it's not, retie it. If it is, flip the long end over his head, and loosely thread it through the loop.
At this point I had to swap dragons, he was antsying and wanted to go to the toilet. (He's now bobbing proudly at the massive green hued results. He likes basil, what can I say?) Ky thankfully is an old pro at this, so was happy to help. Once you've looped it through, loop it through the final loop, the one that goes on his/her back. You will end up with this shape.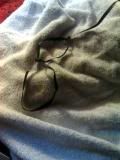 Hold the tops of the loops, so the middle X knot touches the floor and gently insert lizard.
The front should look like this: (bear in mind this one's a little big for Ky, but it's easy to resize)
Gently fidget the loops until it fits comfortably. Bear in mind, if your dragon is sneaky like Ky, they will puff up and as soon as you're not fussing, relax and wiggle out of the remaining space. (Anyone whom has saddled a horse will know EXACTLY what I mean!)
There you go, one lizard leash! Great for roaming around in fields, walking in town, even going to the pub!