Written by Jeremiah
"Podunk"
Jaeger in June, 2003
Updated by Deb Buss in May, 2013
Page 2 of 2
Feeding and diet continued...
There is a wide variety of greens that are available that are good for your Beardie. Dandelion greens, Collard greens, Mustard greens, Bok choy, Turnip greens, and Escarole are among the easiest to find and the best to use. If the greens you are wondering about say Lettuce anywhere in the name
avoid
them. Most types of lettuce are composed mostly of water and hold little or no nutritional value. With the wide variety of other greens out there it is better and easier to just avoid any type of lettuce. Spinach and Kale should also be avoided as calcium binds to it and will not be digested by your animal.
A wide variety of vegetables can also be offered to your Beardie. Butternut squash, Yellow squash, Spaghetti squash, Acorn squash, all other varieties of squash, Green beans, Parsnips, Sweet potato, Snow peas and Carrots. Carrots should only be used as a treat though due to the high amounts of vitamin A. Any food with high amounts of vitamin A should be avoided as reptiles do not absorb alot of vitamin A. Feeding your Beardie alot foods such as Carrots will end up in a condition called Vitamin A toxicity wich is deadly. Squashes can be cooked before hand, but it's not necessary.
Fruits can also be used, just avoid any citrus fruit such as oranges and grape fruit.
The
Beautiful Dragons website
has provided a fabulous
resource for nutritional information
for bearded dragons. This resource provides an extensive list and guidance on which foods are safe, which are not, and even what foods should only be fed occasionally.
Water
Fresh water should be offered daily. Beardies will often not drink from a water bowl, but are more inclined to drink from their bath. Leaving water in the enclosure all day may increase the humidity and risk lung illnesses. If you live in a very low humidity area or in a home with regularly running air conditioning, then a water bowl would do some good in raising the humidity in your beardie's tank. Humidity levels should be higher than 25%, at least.
Bathing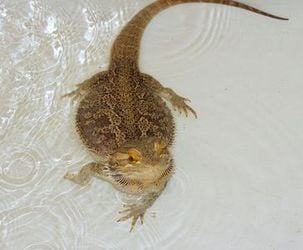 Bathing your Beardie three or more times a week will help keep them hydrated and will also aid in shedding. Bath water should be warm on your wrist and
not hot
, much like bath water for a small child. Make the water only as deep as your Beardies chest or half way up their front arms. I usually just fill the tub until the water reaches the second knuckle on my index finger for my adults and the first knuckle for the juveniles, although if they're used to baths and like to swim, you can add more water.
Never
leave your Beardie unattended in the bath, accidents only take a second to happen. It's also a good idea to disinfect your tub when the bath is over because Beardies will often defecate in the water. Using the kitchen sink is also a good idea. If your beardie defecates right away, just take the water out, drain and rinse the sink/tub, add the water again and let him soak. Be sure to disinfect after all is done.
The recommended time for a soak is 15-20 min. If a beardie is dehydrated for whatever reason, a daily bath is recommended. It helps hydrate a beardie quickily.
Disinfecting
I use a 1/4 cup of bleach mixed with a gallon of water. This is done easiest in an old, clean, milk container. After mixing the bleach and water I then fill a spray bottle with the mixture. This makes it easy to cover the entire surface of what you are cleaning and leaves a container full for when your spray bottle is empty. All surfaces that get feces on them should be disinfected, including water bowls, food bowls and cages. This is how I disinfect all my cages, cage accessories and the tub after bathing.
Spray the entire surface of what you are cleaning until it is soaked. Then let it sit for 15 minutes. After 15 minutes scrub the surface with a rag making sure any old food or feces is removed. Rinse all surfaces repetedly until you can no longer smell bleach. If you still smell bleach rinse again.
There are also disinfecting products available on the net, safe for use with reptiles. Instead of using bleach, vinegar & water are good alternatives. It can be easier to rinse away than bleach.
Hygiene
Hand washing is very important when owning
any
reptile. Washing your hands before and after handeling your Beardie will help keep you and your new pet healthy. If you wash your hands before handeling you reduce the risk of passing anything on to your Dragon. Washing your hands after handling greatly reduce the risk of you contracting salmonella. The risks of getting this are very slim to begin with but hand washing will even further reduce the risks. Your chances of contracting salmonella from the food you eat are greater than your chances of getting it from your Beardie so don't fret.
General
Before deciding on buying a Bearded dragon you should consider a few things. One, do you have a qualified Herp Vet in your area that will be able to care for your new pet if it get's sick? Newly aquired Bearded Dragons should
always
have a fecal sample tested for parasites and a general health checkup. It is also a good idea to have them retested for parasites once a year.
Two, are you going to be able to afford to feed, house and care for this pet during it's life? Bearded Dragons will eat like ravenous beasts when young and will cost you alot of money. The UV light they require also need to be replaced around every six months wich is also going to cost a bit of money. Let's not forget trips to the Vet, these may also add up over the years of your Beardies life.
This care sheet is made up from what I have learned from years of research and keeping these animals. This does not mean that this is the "Beardie Bible" and the only way to keep and care for them. You are the one that ultimately decides how to properly care for your pet.
You are responsible for the life of your pets. If they are sick get them to a Vet. If they are hungry feed them. Animal abuse is a felony in many states and you should remember that.
Other great caresheets (read several caresheets):
Dachiu Caresheets
|
Beautiful Dragons Caresheet
Written and composed by
Jeremiah "Podunk" Jaeger
(not a Vet)
Updated May 11, 2013 by Deb Buss
(not a vet, just an experienced keeper)