New Article: Practical Tips for Brumation
Posted Wednesday December 9, 2015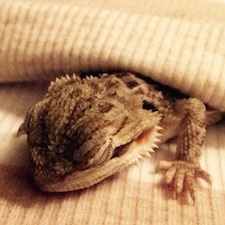 In these colder months with less daylight, many of our bearded dragons decide to take a deep slumber. This can be very scary for the keeper of a bearded dragon, as they don't want to eat, they sleep all day, and in many ways, this resembles serious illness.
Georgina Rayner of
Swell Reptiles
(UK) has contributed a nice little article with helpful tips during this difficult times. Be sure to read the new article, "
Practical Tips for a Healthy Bruiting Bearded Dragon
".
And if you would like to read more information on brumation, check out
our previous article
on the topic, written by Denise Bushnell.