Hello all! I would like everyone to meet my rescue beardie Evie.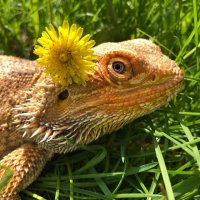 Evie was a 4-5 year old classroom pet in a small town who unfortunately ended up abandoned. You see, the teacher had retired and had no interest in taking her with her. Although I'm sure she meant well, she didn't provide her with adequate husbandry. She lived in a small 18x18x18 tank with reptile sand that likely has never seen a deep clean. She had a massive hide and water dish that took up most of her free space. She was given crickets and dry bearded dragon pellets as her food source. She was not given proper lighting and came with a regular home flood light as her heat source.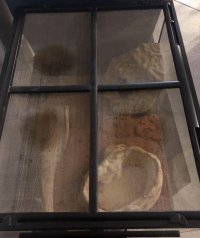 One of the student families had taken her in temporarily while they found a home for her. An ad was posted on Kijiji (Canadian version of Craigslist) and that is where I found her. I messaged inquiring about whether she was available although I wasn't hopeful with the amount of views she garnered as she was listed as free and included her tank and another larger tank. I got a response back along with some photos of her. She was missing the tip of her tail, missing nails and tips of her fingers. She had built up shed on her nose and large built up shed pores on her neck. The lady was terrified of her as she would gape and lunge at any hand that came near her. I drove nearly 2 hours to pick her up and when I saw her, I immediately picked her up. She didn't gape and her whole body relaxed and melted. She was safe but she was in ROUGH shape.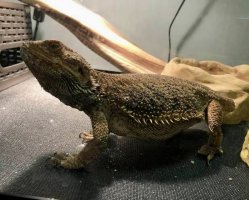 We let her settle down for a week while we searched for a vet who dealt with reptiles. Unfortunately, her health took a turn and we got a glimpse of just how bad of a shape she was in. She was dehydrated, calcium deficient, her protein stores were gone and so were her fat stores. She had fatty liver from her body trying to metabolize what it could. She had coccidia infection and an amoeba infection. I spent a month nursing this poor thing back to health. Injecting fluids under her skin 2x a day, feeding her a rescue formula 3x a day and giving her various antibiotics, anti-parasitic and pain medications. We were so afraid we were going to lose her but she made it through! She started to gain weight and her colour exploded!
She thrived and became queen of the house. She loved all the attention and soaked it up like the sun! We had a few health scares simply because of how poorly she had lived. She didn't really know how to eat properly and ended up with a massive infection after a hornworm got stuck in her beard and began to rot. We nursed her through that but our worries weren't over yet. She began to lay eggs which we were told is a sign of good health. Only problem was the fact that she wouldn't stop laying eggs. She began chronically producing clutches every 2-3 weeks and just wouldn't stop. We had trouble keeping up with her calcium and she became dehydrated but we worked through it.
We were considering having her spayed because the chronic egg laying was wearing her body down quickly!! Then one day, her health took a dive. She went limp and dark. I rushed her to an ER vet where they said she was very dehydrated. We were baffled because I had given her bath and watery veggies/fruits. She doesn't drink on her own but I always tried to accommodate that with her diet. They wanted to put in an intraosseous catheter in her leg but I was hesitant because it would've been extra trauma to her leg should she have needed surgery the next day. They opted to do a tail catheter. She spent 2 days on IV fluids and began to perk up. A week or two later, I noticed discolouration on her tail. Shortly after that her tail had gone limp and began to die off. My vet was worried she wouldn't survive surgery because she was anemic and it appeared she had kidney concerns. Calcium and phosphorus levels were out of whack and her uric acid levels were through the roof. She told me her kidneys were not producing the hormone needed to produce RBCs and there was no medication that would help. My vet gave her antibiotics, said to wait a week and try to get her in better shape.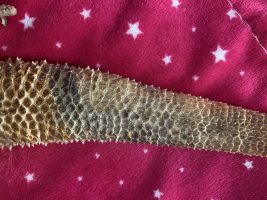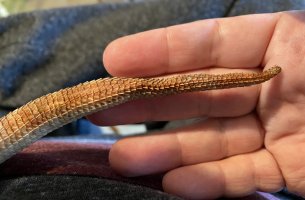 I did a ton of research on foods that stimulate kidneys to produce hormone for RBC. I researched ways to reduce uric acid. I cross referenced info with safe food list for Beardies and made her a special puréed blend which I hand fed her 3x a day. In a week, her heme numbers went from a 9 to a 23 and her calcium and phosphorus balanced out. Her tongue pinked up beautifully and her uric acid levels went down from 400 to 150. But her tail was still dying and the tip was turning to mush. I booked her in for surgery and they got her in within a week. I sent her for surgery with a tshirt that I wore the night before in hopes that the smell of home would give her the will to hold on. Her vet was 90% convinced she wouldn't survive but she came through with no problems. She tolerated anesthesia and was up and trying to move that night!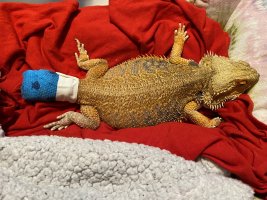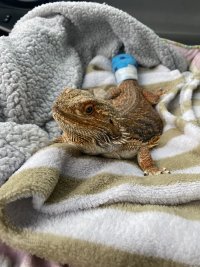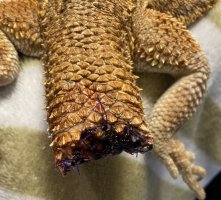 Her tail has healed beautifully and sealed up perfectly. She has maintained weigh and eats normally. I have maintained her hydration and she is bright and alert. Because of her previous cramped living conditions, she developed a bit of muscle atrophy and ultimately the strain of carrying a dead tail caused her to develop arthritis. We have her on pain medication as maintenance but she continues to improve despite mobility issues. She doesn't move or walk very well but that doesn't stop her. She climbs her huts and tries to run around as best as she can. She needs help getting around a bit and needs hand feedings for the most part but she's alive and thriving. She loves her cuddles and fluffy blankets. She has an incredible will to live and we will do everything we can to make sure she has the best life possible.
We love her more than anything! She's our little princess and she knows it