My bearded dragon, Orlando--who for the last four years of his life I assumed was male--laid 33 eggs over the weekend and 4 more yesterday (4/11).
I'm worried that she may have a few more eggs stuck inside her.
She hadn't eaten for 3 weeks before she started laying eggs on Saturday. I didn't take her to a vet because she was still very active, eager to get out of her tank and run around. Once she started laying, I realized he was a she, and frantically started googling "how to help your bearded dragon lay her eggs." The eggs she laid looked yellowing white, with wrinkled skin. By all signs, they're infertile (picture attached). She's never been around another bearded dragon in her whole life, so I don't have reason to believe they'd be fertile either.
I didn't have a lay box for her (again, I thoughts she was male), but she seemed happy to lay them in her tank. She laid 33 over the course of bout 3 hours, then buried them under some towels I put in there and crawled to her basking spot. I assumed she was done. I gave her a
bath
and she drank long and deep from the bathwater.
The next morning, she was starving. Ate tons of dusted roaches and dried crickets. Basked all day, but looked droopy. Same for the next two days--hungry in the mornings, basking, but droopy. Not exactly lethargic, but not herself.
Last night, during her daily
bath
, she passed a colossal urate the size and shape of an egg and four more eggs. One egg was attached to the urate. These eggs looked...wrong. Bloated. Bruised-looking. Purple and brown. Like they were full of rotten fluid. (Pictures attached)
She was very perky last night after passing those, though she looed a little shell shocked. She's even hungrier today, eating roaches and vegetables and greens and dried crickets. I gave her another
bath
to see if she would pass anything else. but she still seems sleepier and droopier than usual. Basking, but laying down. Eyes open. no
black beard
, but she's mottled underneath her chin and belly.
Should I be worried? Is there any chance she's still got eggs inside her that are rotting or stuck?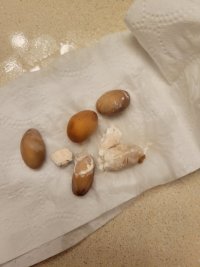 I'm especially interested to know if anyone has ever had their dragon lay eggs that look like the ones in the picture on the right. What's up with those?
Here's her setup:
40 gallon glass enclosure, screen lid
Zoo Med ReptiSun 10.0 UVB T5HO 22 mounted under the screen
Zoo Med Repti Basking spot lamp, 100 w
Air temperature is 85-90 F during the day
Basking spot of 100-105 F, 8-10 inches from UVB
Cool side with hide, 85 F
Night temps of 70 F ish with CHE and space heater
Her diet consists of dubia roaches with occasional super worms for protein, dusted with phosphorous-free calcium and multivitamin and probiotic powder (which helped the last time he had the runs/poor appetite). She eagerly eats greens when they've sat over night and gotten dry and crunchy.
Last edited: