BD.org Sicko
Staff member
Administrator
Moderator
Founder
Beardie name(s)

Cailyth, Pinky, & Brain
If you order, please use the links below.
CafePress will often email previous customers with links to buy the calendars. If you order it through THEIR links, they take most of the profit (very annoying). So, please use the links on this site for the Beardie Stuff Store!
[float=left 5]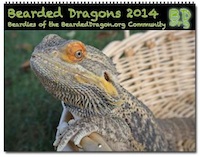 [/float][float=right 5]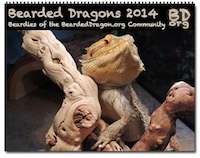 [/float] Yes, it's that time of year again! Thanks to all the members who submitted the beautiful pictures of their bearded dragons, we have ourselves 2 new calendars for 2014!! More than 80 bearded dragons from our community strutting their stuff to bring you 2014 with bearded dragon style!! We have
Calendar A
and
Calendar B
as two different options! Order one! Order both! Profits from the calendars contribute towards the cost and management of BeardedDragon.org! Both calendars are available at the
Beardie Stuff Store
.
NOTE:
CafePress has done some weird things with calendars. When ordering MAKE SURE to indicate the starting month as January, unless you explicitly want a different starting month for your calendar.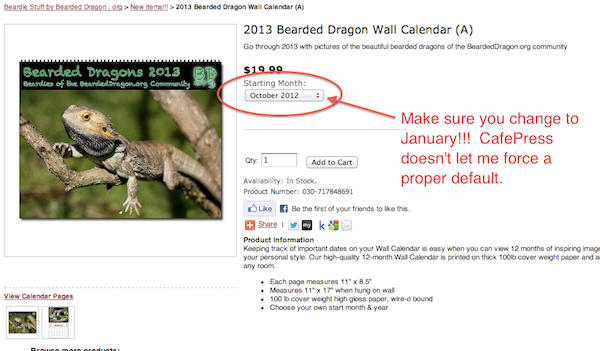 If your beardie's image still needs a correction and you want to buy a calendar, let me know. I can update it before you purchase yours.