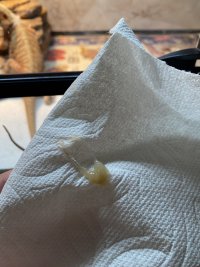 Hi guys! I️ have 2 bearded dragons. 1 just got her final dose of antibiotics for coccidea on Wednesday & she is having pretty normal poops again but still a little runny. I️ found this gooey stuff on her rock this afternoon… she already had a bowel movement earlier this morning. (Pictured on paper towel). She occasionally will have a second urate passing during the day but it is just the urate… Can anyone help me with what this is or advice on what to do? I️ am trying to keep her hydrated with water from a dropper & salads + making sure she eats her live Dubia roaches & BSFL. Her eating has improved & the vet said she gained weight in the last 2 weeks but this goo stuff is new to me & I️ am worried!
My second bearded dragon is going through a shed, totally normal behavior, normal eating habits. But I've noticed this liquid around his poop & urate the past few days. I️ have been encouraging more salads to keep him hydrated lately so could it be that?
Sorry for so much info!! Thank you for any help in advance.