[TOPIC AUTO-LOCKED DUE TO INACTIVITY]
Nub of problem , open topped / mesh topped tanks provide no resistance to warmed air created by the basking globe, the CHE and or heat pad, being lost because warmed air is naturally less dense than cold air and therefore is very buoyant and instantly rises to pool at the room's ceiling while cold air falls into the open top tank creating a pool of cold air.
This means you must use much more wattage to get the same temperature as you would if the tank were well insulated and a "closed system".
Heat loss calcs :
viewtopic.php?f=34&t=236332&p=1816614#p1816614
Ways to fix this :
option 1 : convert existing tank to a solid timber hinged lid
viewtopic.php?f=75&t=240221&p=1840683#p1840683
It is very easy - you can easily simply place a heavy piece of MDF or plywood overtop of the mesh lid , in fact since you have cats , I'd permanently remove and throw the mesh / screen lid away and replace it with a heavy hinged timber lid , anyone who is handy with DIYS carpentry can rig up a box frame to sit on the top the viv and onto which the solid timber lid's hinges can be fastened , the lights (basking globe and UVB tube can easily and permanently be attached under the new hinged lid
see this layout , is very simple and very basic - AND CAT PROOF !!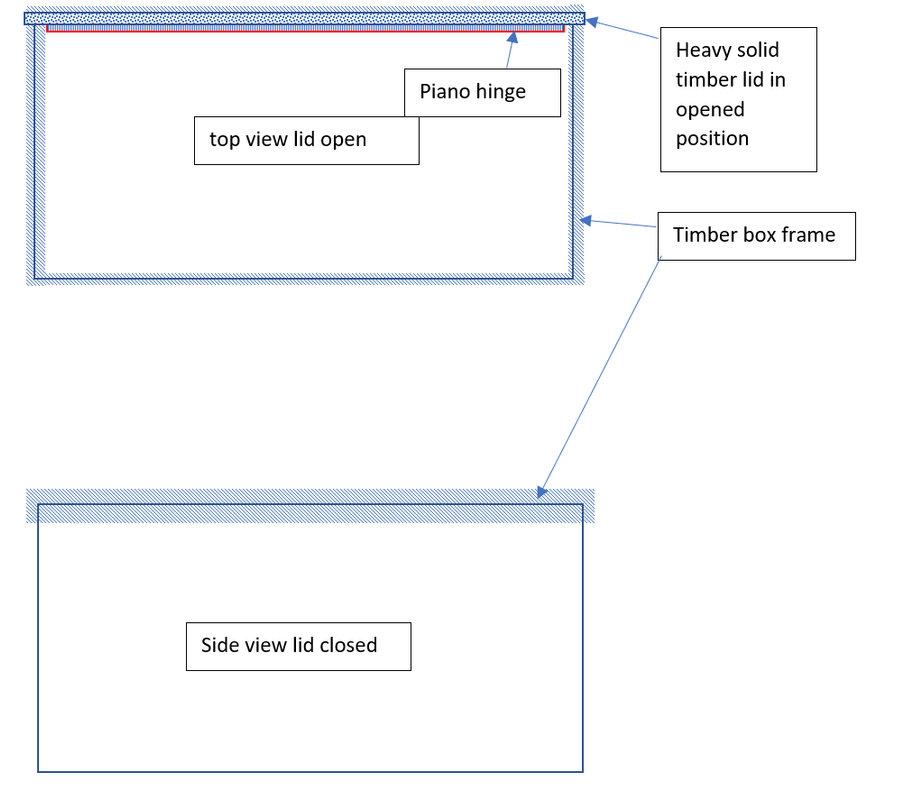 one or two of these boat Stretch loops & Buttons
http://www.bcf.com.au/Product/Blueline- ... rom=571494
on the front of the lid will secure the lid and stop a determined dragon from pushing the lid up enough to climb out .
Benefits:
1) cats can't get the lid open or get a claw under it or through it
2) the solid timber will hold heat in the viv ==> lower wattage basking / MVB globe will achieve same zone and basking temperature ==> lower power bills !
3) the solid timber lid will provide a solid platform from which to hang the basking globe & CHE (ceramic high temperature fixtures and safety cages) and the T8 or T5HO UVB tube and reflector hood
4) will promote a good thermal gradient rather than allowing all the heat created by the basking globe and CHE to escape (and pool at the ceiling of the room where the viv is housed).
The use of piano hinge which is the same length as the lid ensures the lid can't slip off or fall off .
The weight of a solid MDF or plywood lid and the stretchy rubber loops on the front of the lid will defeat a cat's attempts to get into the viv.
option 2 : convert existing tank by turning tank on it's side and turn the top into the front and add sliding glass (lockable) doors
viewtopic.php?f=34&t=246739
Another approach involves turning the top into the front (flipping the tank 90 degrees) and attaching a frame for sliding glass doors ie make up a timber sliding door frame (for sliding glass or Perspex doors) , turn the tank on it's side (top becomes the front) ,
remove the mesh lid (bin it) ,
fit the light fittings to the PLYWOOD false ceiling (top under glass ceiling)
ie see this generalized layout :

materials :
* sheet of 3/4" marine plywood offcut , precut by the trade desk at your local hardware shop (for front and new tank CEILING (under glass ceiling)
* soda glass 6.5mm thick cut to size and smoothed on the edges , holes predrilled for finger holes / lock
OR
Perspex 6.5mm thick or acrylic 6.5mm sheet clear (UV STABILISED) with smoothed edges and predrilled holes
* plastic tracks ie
https://www.cowdroy.com.au/product/p026
... -track-set
* mesh for the warm air (top) vents
* cupboard vents like these
https://www.ebay.com.au/p/2-Pack-Cupboa
... 725&chn=ps for the lower cool zone air vents.
* some 66 x 42mm x 2.4m F7 FJ H3 LOSP Pine Primed to make bottom slip in lip
* some silastic to glue the frame in place so it doesn't fall off.
option 3 : move the dragon into a tub with a click clak style lid that has been modified , a 120L tub will be ideal for a juvenile up til it's first birthday ie
https://www.bunnings.com.au/all-set-120 ... r_p2583852
, conversion is easy and quick
, and the latches that hold the lid on will make it cat proof ie
viewtopic.php?f=34&t=233480
option 4 : invest in a solid timber front opening tank or build one for the dragon.