Baby saltwater crocodile found in Chermside creek, just north of Brisbane, to be rehomed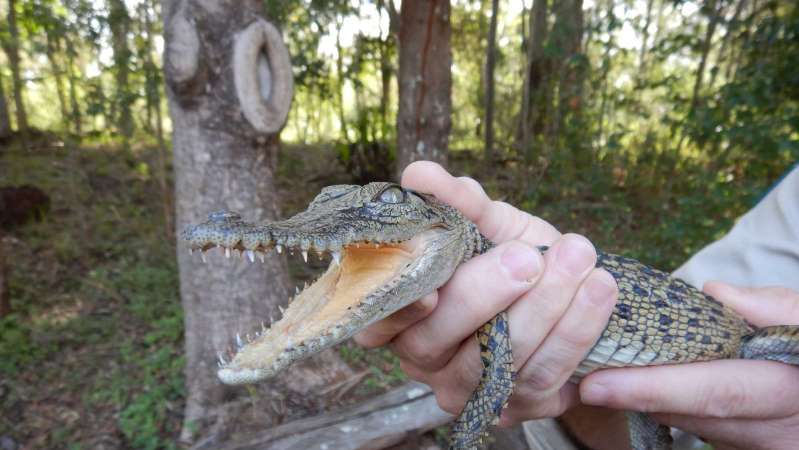 Wildlife officers have seized a baby saltwater crocodile after it was found near a creek in Brisbane's northside.

The 40 centimetre reptile was discovered about 80 metres from a creek near Newman Road in Chermside.

<< Downfall Ck ,

zoom out to see location proximity to river


I expect the resident water skinks, and water dragons will have been its main food source there as well as the occasional domestic cat and rat >>


It is believed the crocodile was caught in the wild before being set free in Brisbane.

Wildlife officers from the Department of Environment and Science (DES) said the crocodile was dehydrated and distressed and has since been placed in a pond in a Queensland Parks and Wildlife facility "to recover from its ordeal".

In a statement, a DES spokesperson said transporting a wild animal, particularly a dangerous one, was "completely unacceptable".

"Apart from being very cruel, doing so can cause serious issues such as transmission of disease and introducing them into unsuitable habitat," the spokesperson said.

"The young crocodile is currently only 40 centimetres long, but if it had grown to full size, it would have posed a danger to the public.

"But there's a happy ending for this young crocodile who will now receive the best of care and be rehomed in one of the Queensland Government wildlife centres in south east Queensland."

The Department has asked anyone with any information about how the reptile was transported to Brisbane to contact them.
Way the waters in the Coral Sea and North Western Tasman Sea ( along the SE coast of Queensland and far NE coast of NSW ) are worming up , it wont be very many years before esterine crocs migrate into inlets and lakes and rivers as far south as Coffs Harbour, I have seen reports of fish only in the past caught from RockHamption being caught more and more frequently in the Tweed and as far south even as The Mackay River . If the fish are there , so are the corals , and the mangroves are already there , and the esterine crocs are just as capable as other animals of using the Great East Australian Current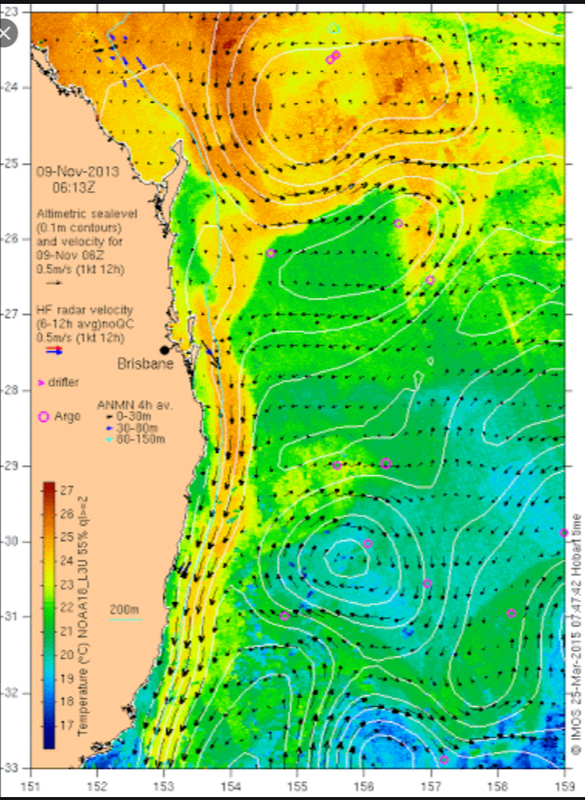 to easily & Quickly migrate south to SE coastal QLD and NE coastal NSW.
Been a long time since I visited Brisbane and the Gold Coast , but I have very vivid memories of seeing whiting , mullet , garfish , prawns and crabs everywhere along the river and marine creeks and plenty of mangrove flats - all perfect for a esterine croc to take up residence .
A very large captive salt water croc has been living / thriving at Gosford Reptile Park for over 50 years called Elvis The Bone Crusher
https://reptilepark.com.au/blog-videos/ ... crocodile/
It's pond is heated to stay at about 28 degC year round , and it's enclosure ( a big fenced pit) is not indoors.
Sea temperature in the rivers, lakes and surf never gets get lower than 20 degC here.