[TOPIC AUTO-LOCKED DUE TO INACTIVITY]
I just wanted to update everyone on Kora's condition. I posted a thread in the ER a few weeks ago and since it doesn't seem to be an "emergency" anymore, I'm going to post here. If you need to read my previous post, it's here -
viewtopic.php?f=45&t=155766
Kora has made no progress. Actually, she has gone downhill. She was on Baytril for about 14 days and showed no improvement and she stopped eating. She has gone up from 500g at the vet to 515g with me force feeding. We stopped treatment and now are just playing a waiting game to see what happens. The vet suggests trying some xrays and possibly a blood smear to see how many white blood cells are in her system. I will bring her into my work (an animal hosp) to get this done sometime this week.
She is being force fed a pellet bearded dragon diet which is made into a mash with some critical care mixed in and vitamins. She doesn't fight the force feeding at all and is actually getting a large amount into her. Her rear legs seem to be unaffected, but her front legs are severely compromised. Her whole body is curved to the right side. Her right leg is tucked in really tightly to her body and she doesn't like me to extend it. She is aware of it and will right it when it's put down the wrong way. Her left leg is usually fully extended and she has little to NO response when it is put down the wrong way. She will often leave it turned the wrong way. Her head can move some, but she doesn't like to move it. Mentally she is alert and looks up at me with her sweet little eyes. She knows what's going on around her. She's very content to sleep on me and be out of the cage.
Please keep her in your prayers. We have no idea what is causing this. She is the SWEETEST, most docile and friendly dragon I've ever known. She does programs with children at the YMCA, she is a bearded dragon ambassador and everyone loves her. If you have ANY ideas at all, please let me know. We have an exotic/reptile vet from Windcrest Animal Hospital and 3 of the vets at my animal hospital working on her case and we don't have any ideas other than stroke, virus, etc. Nothing is looking good for my girl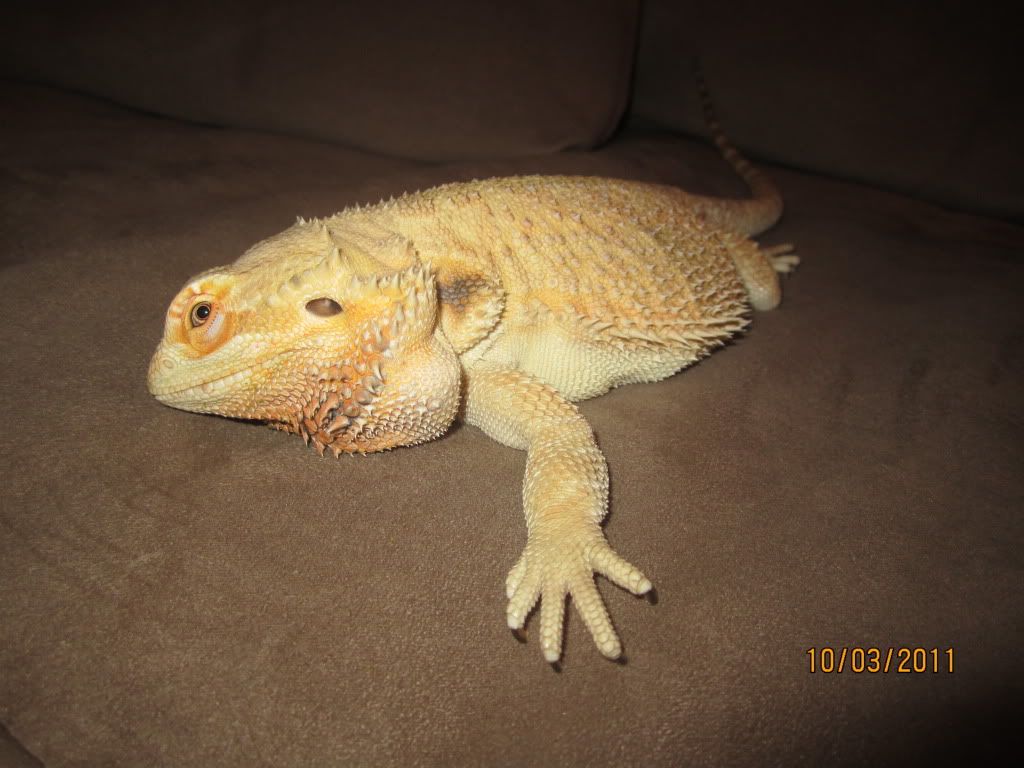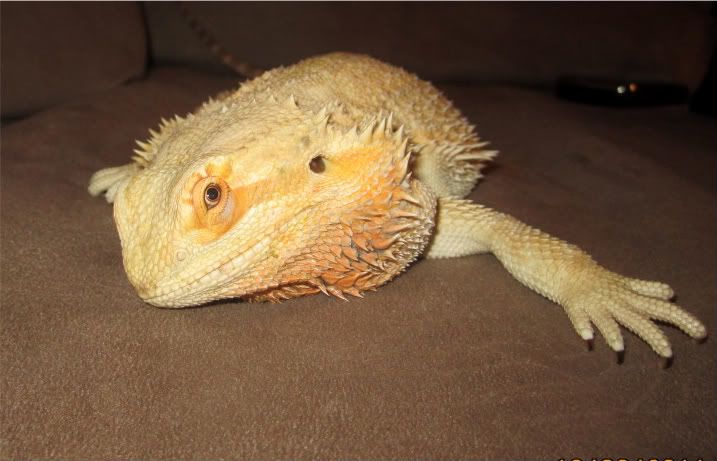 This is her constant position now, one leg extended, one retracted.