[TOPIC AUTO-LOCKED DUE TO INACTIVITY]
Original study here :
viewtopic.php?f=6&t=232446
Latest analysis of Peppa's "regularity" for the period April to October 2018 , includes slowdown over winter ( see two peaks ) , and she will be 3 yr old in November 2018.
Silkworms & crickets everyday + greens (offered, she's not a fan of green leafy stuff).
The Histogram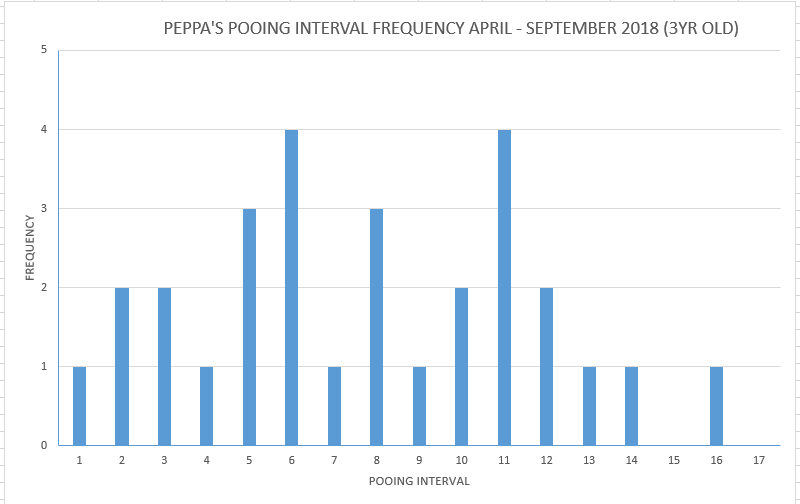 DATA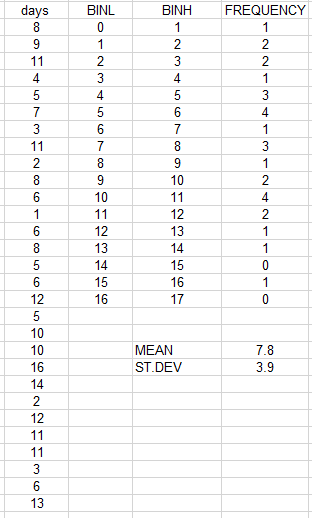 Prior study gave Peppa (about 1.5 yr old)
mean = 6.1 day's between poos , stdev = 3.4 days.
was not as easy to do under the latest version of Excel as under Excel 2000.
Couldn't get FREQUENCY FN to create an array so used COUNTIFS FN
ie
=COUNTIFS(raw data array,>BINL,raw data array,<=BINH) , gives the number data inside the "bin".
My actual calculation for each range is as follows , and repeated to create my frequency array :
=COUNTIFS($B$64:$B$92,">"&C64,$B$64:$B$92,"<="&D64)