[TOPIC AUTO-LOCKED DUE TO INACTIVITY]
Ember Rose is almost 10 inches and she weighed 54 grams on 3/24/13. From what I have been reading on here it seems that other peoples dragons at 7 months are much bigger that she is. i am trying to feed her more.She is my first bearded dragon so any advice would help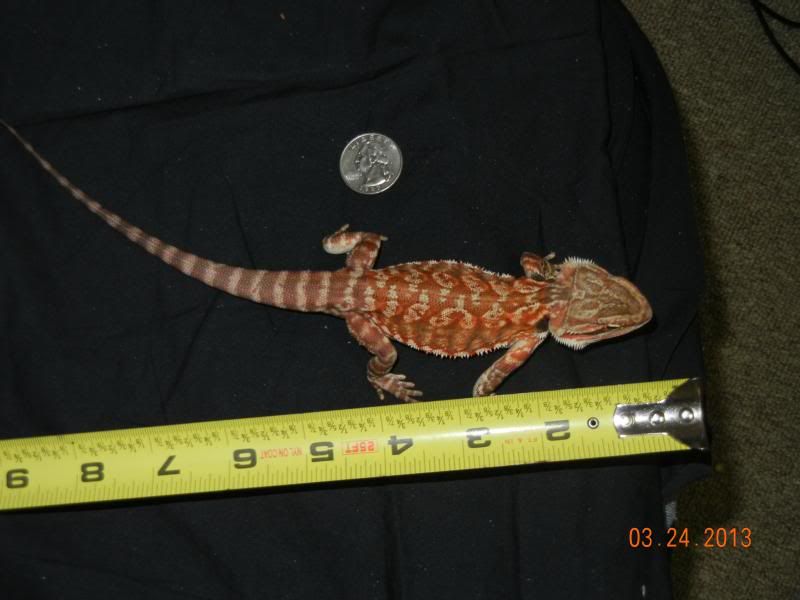 Ember Rose info
How old is your dragon?
7 months old, she hatched on 8/25/13
How long have you had your dragon?
3 months
How long is your dragon?
10 inches as of 3/24/13 and weighs 54 grams
What is the sex of your dragon?
Female
What size enclosure do you have your dragon in?
20 gal soon she will be moving into 36x18x18
What type substrate do you have on the bottom of your tank?
Slate tile and paper towel
Do you use UVB lights?
Yes
If so, Is it a coil, compact, fluorescent tube, or Mercury Vapor bulb?
18" Fluorescent tube
What is the brand name and number of your bulb? Wattage (if MVB)?
Zoo Med ReptiSun 10.0 I also have a 100w Mega Ray MVB that I will used once in she is in her bigger enclosure.
How old is your UVB bulb?
3 months
How close can your dragon get to the UVB, and where is the UVB bulb located?
About 7 inches
Do you use a separate basking bulb? What kind and what is the wattage? Is it a white or colored bulb?
Exo Terra Sunglo 75 watt
Do you have any type of night time heat source (ceramic heat emitter, colored bulb, etc)?
not yet
How long are lights on each day?
13 hours
What are the basking temps?
105
What is the cool side temp?
80
What is the night time temp?
70
Do you take the temps with a stick on thermometer, a digital thermometer with a wire and a probe end or a temp gun?
All three
Where exactly are you taking your basking temps?
At the closest part she can get to the bulb.
Do you use a heat rock or heat pad?
nope
What do you feed your dragon? Please be specific.
Crickets, Phoenix worms, Red runner roaches just started the roaches on 2/28/13 (She does not really like them because she will leave the red runners for last if offered other insects. Even if powder the roaches and crickets she will still just go for the crickets) Now the green stuff. She has not acquired a taste for them yet. I have only seen her eat 2-3 bites of mustard greens all she does is take one lick and move on. I am continuing offering her Collard, Turnip, Mustard greens and Kale. I have offered her mango, butternut squash, radishes. Green, red, yellow bell peppers. I have tried bananas, apples,cucumber, kiwi, Romaine lettuce, Raisins with no success.
I have even put a cricket or Phoenix worms in her food dish and put some greens on top, Once she sees it start to move she runs over and waits for them to come out in the open to eat them. Ember is so precise she rarely gets a piece of green.
How often do you feed and what time do you feed (morning, afternoon, night)?
On workday mornings I put fresh cut greens in her dish and a couple of crickets in as well I leave before she gets up so I don't put many in there to bug her. After work I give her dusted crickets and roaches until she is full. On days I don't work I feed her in the afternoon and evening.
How many live feeders do you offer at time?
Depending on the size about 20-25
Do you gutload (feed) your crickets, worms, etc?
Yes
Do you use vitamin or calcium supplements? What brand(s)? How many days a week do you use each of them?
Yes Zoomed Reptivite with D3 once a week and Flukers Calcium with D3 five days a week
Is your dragon having regular bowel movements (poops)?
Yep I had no idea something so small could smell that bad.
Do you bathe your dragon? How often?
At least 3 X a week more if she is shedding.
Do you mist your dragon or offer water other than in the bath?
Yes I do mist her sometimes and she has a small water bowl all the time
Have you gotten a vet check and fecal done?
Not yet because I got her from a very good breeder Carolina Designer Dragons. I will soon since an exotic vet is within walking distance from my house.
Does your dragon share an enclosure with another dragon?
No
Info updated on 3/24/13