[TOPIC AUTO-LOCKED DUE TO INACTIVITY]
Well, this whole story started a couple months back. On CL Seattle, I saw that someone was selling an orange female beardie. I, of course, was curious and wanted to talk to her about it. This was right after I had rescued Stumpy. Through our conversations, she decided that the thought of giving Zeena up for adoption was just too much to handle. She and her 5 year old daughter had grown very attached to the little monster and they wanted to make things work. She was feeling over-whelmed with all her reptiles. So I wished her luck and told her that if she ever needed to find her baby girl a home, please, keep Ed and I in mind.
Well.. about 2 weeks ago, I got an eMail from her saying she needed to find Zeena a new home because she just cannot handle all the snakes, lizards, dogs and her kid at the same time. Totally understandable. I told her I would be more then happy to adopt Zeena into our home. I was so excited to finally have a female as Gaper and Stumpy are testosterone charged boys
I told her the only problem was that I wouldn't be able to pick Zeena up for approx. 2 weeks. She said it wasn't a big deal. I *could* have made the 3.5 hour trek just for Zeena but we already had appointments at UW Hospital for my fiance so I figured why not make it a full day.
So Yesterday comes, we go to our appointments, get something to eat, fart around in Seattle and then make our way down to Tacoma to pick Zeena up. We arrive at Tabbitha's (old owner) house and I instantly see Zeena's 40g Breeder tank about 6 inches off the floor on a wood shelf. She was just laying there, lifeless almost, with no UV on her and a plain 100w household bulb with no top on to hold the heat on. Instantly, I start thinking the worse..i.e. that I agreed to take in another sick dragon.
So I go over, get on my knees and say hi to Zeena. I am NOT conceptual AT ALL so the tank looked huge to me and then Zeena looked teeny to me but when Tabbitha picked Zeena up and handed her to me, I was shocked. I had never seen a dragon, that close and personal that was that big. My eyes got wide and then Zeena looked up at me, yawned and I swear, I fell in love right then and there. It was like she KNEW what heart strings to pull, you know?
So Ed and I are talking to Tab and getting some history. Zeena is approx. 4 - 5 years of age, has always been kept on sand and always hand fed about 10 supers a day. She gets a bath whenever Tab remembers which is almost never and gets some greens thrown in her tank every couple of days and are allowed to sit in there overnight to get crispy. Zeena does like pinkies and has eaten 3 or 4 since being with Tab for this last year. She poops about every 3 to 4 days and hasn't ever really had any health problems that Tabbitha new of. As we were talking, I noticed that Zeena was black bearding one of the snakes. I then flipped her over and I discovered that Zeena
wasn't
a she but a he. We all had a really good laugh about that. Then we also heard Tab's 5 year old daughter refer to Zeena as "God-Zeena" so the name has sorta stuck and that is his new name.
So after two hours of holdin 11 various snakes, chatting and laughing, Ed, myself and Zeena were on our way home. The 3.5 hour car ride home was completely uneventful. Zeena snuggled up in my red fleece sweatshirt and slept the entire time home, except for when we went into McDonalds with him and he became the star of the store! Everyone fell in love. We got home and promptly put God Zeena in the bath. I was utterly horrified to what happened next! God Zeena pooped and I kid you not, the urates were the size of a small candy bar. They were probably 2 to 2.5 inches long and about the same in WIDTH! The poor baby was struggling so hard to get everything out, I felt so bad for him. It was a good thing I massaged his bowels to help him a little bit before. The urates were hard as a ROCK. It was terrible. Just to be on the safe side, we're going to take a fecal into the vet in about 10 days or so.
God-Zeena is in his viv, hanging out and enjoying some proper temps for once. He has eaten about 4 or 5 supers today and Tab told us that he normally eats about 10 or 12 in a day. He has HORRIBLE aim for catching supers. It takes him about 10 - 12 tries to get a super in his mouth, it's really funny but sad at the same time to watch, you know? We took him outside today to bask and he ran around and got lots of sun for about an hour. He LOVES to snuggle with people. Last night, after his bath, he laid on Ed's chest for over an hour while Ed laid down and watched TV. He even kind of likes Gaper. I obviously would never leave them alone together but they both seem to be pretty curious about each other. Stumpy wanted to kill him
My Mom, who doesn't like to hold the beardies AT ALL, even WILLINGLY went into God-Zeena's viv today and picked him up on all her own. She is totally in love with him. She keeps telling me all day how much she loves the lizards.
Soooo.. Without Further Adieu.. Let Me Introduce The 3rd Beardie Member To Our Family.. God-Zeena!
Length: Almost 22 inches
Weight: 576 grams
Before God-Zeena came home with us: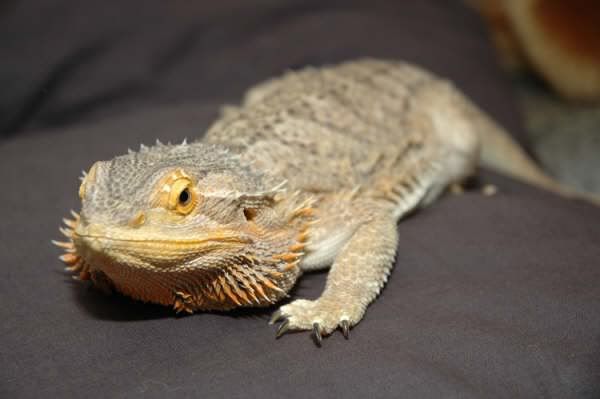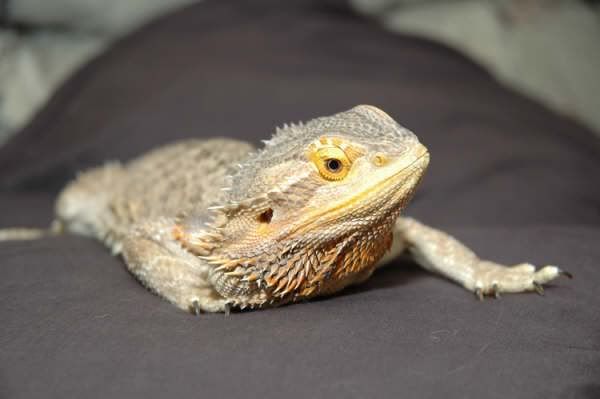 After being with us: