22 Mar RAINAGEDDON UPDATE
Seems like most of NSW is underwater, national disaster unfolding in most of Greater Sydney, Gosford area, along all the coastal rivers, and even in the outback , all the rivers are bursting their banks and levees , it's huge rain event ( largest since 1950s here ) , and worse in living memory in Sydney.
BOM are calling this a 1 in a 100 year flood event for NSW & SE QLD.
Same the NT (very strong monsoon this year) , there are waterfalls on Uluru ( Aye's Rock )
https://videos.dailymail.co.uk/video/mo ... 772283.mp4
https://www.dailymail.co.uk/video/news/ ... in-NT.html
, and more rain is coming from very strong monsoonal depression that's causing massive flooding the NT , Kimberley Region and Arhem Land.
Top the rains with a mouse plague , and now a spider plague , one can be forgiven for letting their imagination run away .
And when rainbomb is finished , and the sun and warm weather returns to the flooded area, in a few weeks there will be a mozzie plague and a fly plague ( all those drowned animals will be perfect for flies ).
This sumarises the situation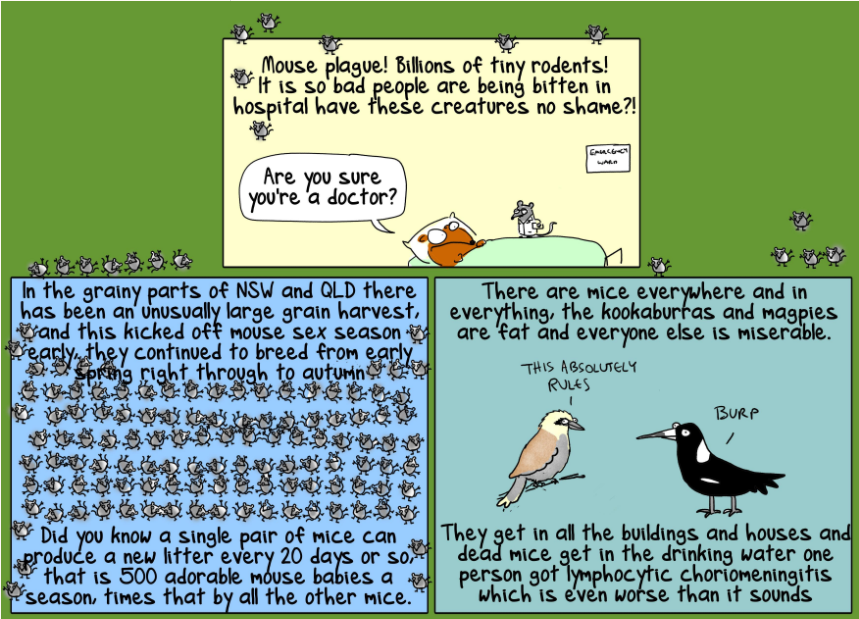 the kookaburras and magpies are so full of mice they are too heavy to fly and are now walking about ( or sitting on dry porches waiting for the rainbomb to go away and for the spiders to eat the rest of the mice)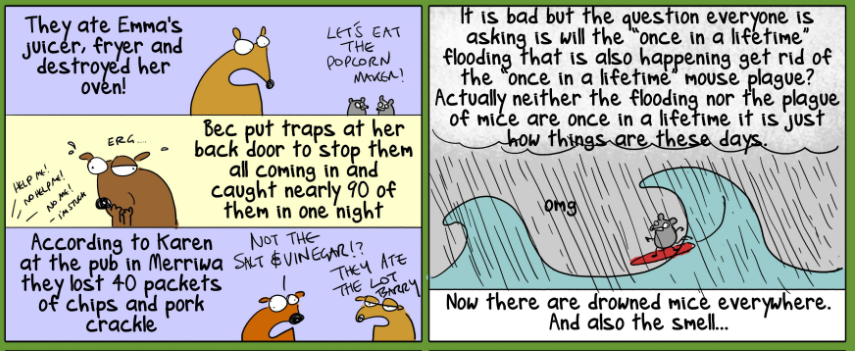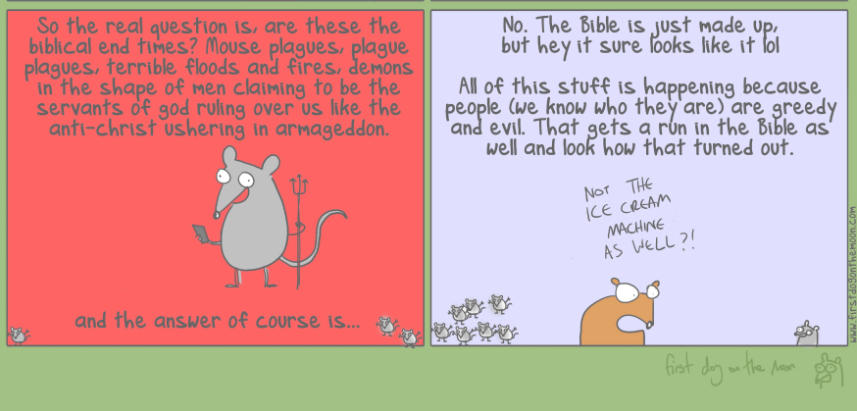 The mice have eaten the bibles too .
Gonna be in trouble if the mice eat all the dunnypaper !!!
Some people are having to evict sharks and stingrays from their homes and sheds and gardens ( at least here in NSW we don't have to worry about esterine crocodiles ( yet.... ).
Fortunately because we've done all the right things here, we don't have any community transmission of covid19 to worry about here in NSW or NT or QLD , or elsewhere in Australia.
Plus lots of people are finding snakes coming into their homes trying to find dry ground too.
Now spiders are out in plaque numbers in the flooded ares …. sends shivers down ya back just thinking about it - it's the stuff of nightmares and horror movies .
https://7news.com.au/weather/sydney-wea ... -c-2405988
then maybe the zillions of spiders who have lost their nice snug holes in the ground & under peoples' houses will eat the mice , then the dragons, skinks, goannas & frogs & geckos will eat the spiders & all will be well if a bit boggy.