Another day of 40 degC plus temperatures and very strong dry winds all day.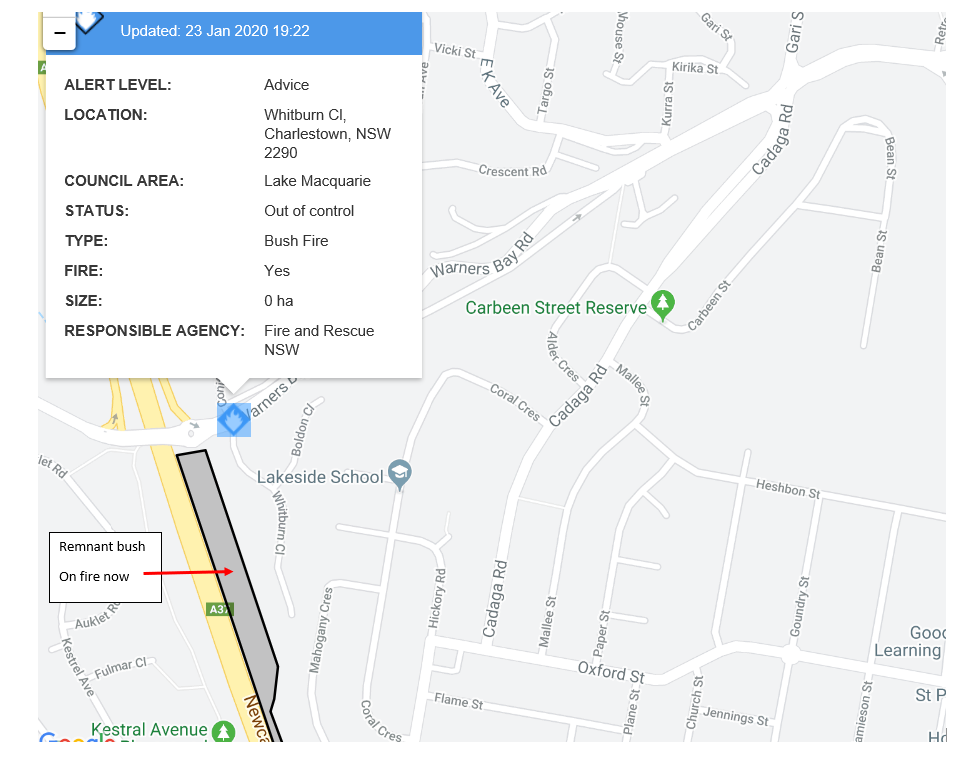 Bushfire up the hill about 1km away about knockoff time , caused ember attack and bushfires and grass fires and yes house fires in my street just now, wife and I have been outside drenching the front lawn, the leaf litter on the paths and driveway and between the big bed and our house and on our roof and in our backyard and along the boundary fences.
Very fortuitous that I had a major yard clean up just before the Xmas holidays and had a huge amount of accumulated leaf litter and accumulated twigs removed from off my roof , and had my shrubs and tree trimmed .
Was little spot fire under the fence on the my south nutty neighbour's side between our driveway and the fence, put out very fast with buckets by neighbours on other side.
All the houses on the other side of my street back into an area of remnant bush (buffer between the ByPass and our street).
At one stage every home on the other side of our street had fire attacking their back fences and back yards / gardens and sheds , and the police were door knocking and ordering people out of their homes .
One of our friend's homes was set on fire by an ember in her roof gutters, and three straight across the road from us lost back fences , a car , a boat , a caravan and each lost their garages and garden sheds.
Not out the woods yet , fire engines , police , emergency services , bushfire brigade and firebombing skycranes are still working in my local bushfire. Is still out of control .
No lightning , so it's very likely this was lit by a local firebug or maybe some fool tossed a lit butt out a car or bus window .
The other fire nearby is at the top end of near the main road that skirts Glenrock State Conservation Area near Burwood Rd at Dudley near Flaggy Creek and Yuelarbah to Fernleigh walking trail about 5km away and down wind. So no embers from that are getting to us.
Update : 5 hours later , cops , ambulances , fire trucks and bushfire brigades are still in the area.
And now I can hear thunder in the distance … there's wind change coming .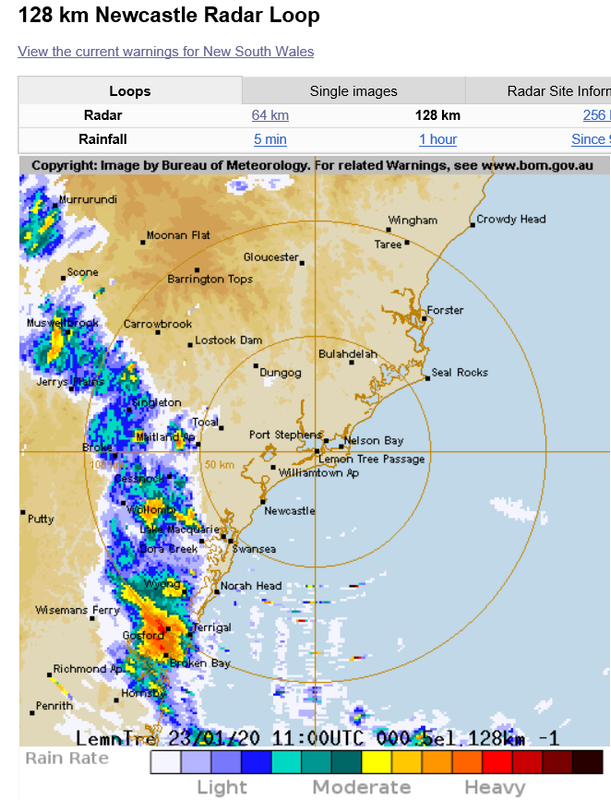 And a severe / dangerous storm warning is current but we look like we'll miss the worst of it ( heading for Wyong ),
The Bureau of Meteorology warns that, at 9:55 pm, severe thunderstorms were detected on the weather radar near Calga and Wollombi. These thunderstorms are moving towards the east. They are forecast to affect Gosford, Wyong, Belmont and Cessnock by 10:25 pm and Newcastle City, Charlestown and Wallsend by 10:55 pm.


Damaging winds are likely. Brief bursts of heavy rainfall that may lead to flash flooding in prone areas are possible.

we'll get the northern edge ( some of have a tornado form if there's any circulation in the storm ).
Bucketing down now , didn't last long though ( 5mins ) ,didn't make much difference temperature wize , 11pm and it's still 35 degC outside.
. 10:30pm and the little 3 yr old girl next door is all wound up and excited …. good luck getting her to sleep tonight.
And some sad news :
https://www.abc.net.au/news/2020-01-23/ ... a/11894892